Our company is one of the leading manufacturers of household chemicals in the European Union. Due to the innovative technologies, our chemists and technicians have managed to create environmentally
Gel for washing Pure Fresh Universal in 3l/4L / 5L. Prices from the manufacturer from the EU. Looking for partners in large wholesale!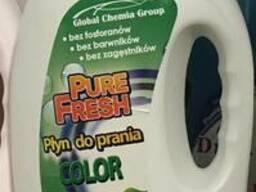 Pure Fresh Universal 1,5l is the best tool for washing white and colored things. With the help of the necessary formulas appeared the ability to control pollution at temperatures up to 30 degrees.
Новые объявления
Брезент, Копенгаген.
×
×
"Бытовая химия" в регионах
×
×